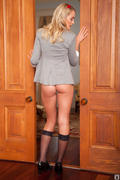 School: University of Mississippi
Major: Anthropology
Birthday: July 18, 1991
Height: 5'10"
Weight: 125 lbs
Measurements: 32B-24-34
Playboy: What do you find most attractive about the opposite sex?
Brooks: There is nothing sexier than a man with a sense of humor!
Playboy: How do you keep yourself so attractive to the aforementioned opposite sex?
Brooks: I do a lot of yoga to stay fit and flexible!
Playboy: You don't have a man in your life right now. What's the best part about being unattached?
Brooks: Being single means having the freedom to do what you want!
Photography: Zachary James Johnston